Our Contractors & Advisors
Kerry Kennell
Kennell & Co
Kerry is a proud Torres Strait Islander woman from Ugar and Erub and has experience working as a lawyer, business consultant and artist manager. With a Bachelor of Laws, Kerry brings experience from various industries including government, law, construction and the music industry. Kerry provides 1:1 mentoring on strategic planning, operational efficiencies and people & performance
Yolanda Finette
Yolanda Finette Consultancy
Yolanda, a proud Yorta Yorta woman, is a holistic life coach, holistic counsellor, wellbeing facilitator and Reiki Practitioner. She provides 1:1 coaching to business founders to support them to get the best out of life and their businesses. Yolanda's practice honours identity, culture, personal sovereignty and healing. After a professional career spanning over 25 years in child, youth and family services, Yolanda embarked on her own journey of healing and reconnection. This journey enabled her the tools to create a unique multilayered approach to her work, drawing on both traditional and modern modalities. Beyond one on one coaching, Yolanda has created a platform to be of service to her Aboriginal community through delivering wellbeing and self-development workshops and presentations through a cultural, trauma-informed, anti-oppression lens. Yolanda is married to Damien and is a Mum to Dakota, Aijah & Cielle.
Adam and Carmel Wooding
Empower Digital
Adam & Carmel Wooding are passionate advocates for small business, offering digital training and support services in all aspects of e-commerce. Adam is a proud Yorta Yorta man with over 15 years of experience in e-commerce and business, and Carmel is an educator with a passion for technology. Through their business Empower Digital, Adam and Carmel work one-on-one with small business owners to empower them to take control of their online presence, overcoming barriers and gaining sustainable outcomes for their long-term success.
Jolene and Theresa
TJ Accounting Consultants
Jolene (a proud Yugunga-Nya woman and Chartered Accountant), and Theresa (a proud member of the LGBTQIA+ community and Certified Practising Accountant), are the founders of TJ Accounting Consultants.
They are not your typical accountants. They represent the under-represented and understand how it feels to be a minority. Together, Jolene & Theresa represent Indigenous community, the LGBTQIA+ community, women and immigrants. Diversity and inclusion is a very important part of their business.
As a women-owned and run business, their driving passion is helping women to succeed. They understand their unique challenges, but also their unique opportunities. Above all, however, they seek to work with clients with aligned values and goals. They believe that when you share similar values and goals, together you will achieve incredible results.
Kedeisha Kartinyeri & Mike Levy
KML Business Solutions
Kedeisha is a proud Ngarrindjeri woman from Murray Bridge, South Australia. Kedeisha obtained a Bachelor of Commerce (Accounting) at the University of South Australia, with the goal to work directly with community. Fast-forward 4 years, and she is one of the founding Directors of KML Business Solutions, a company that partners with Aboriginal-owned businesses to support their growth. In a year and a half, the team has supported more than 30 Aboriginal-owned businesses, and they're not slowing down. She is incredibly passionate about closing the financial gap that often holds back Aboriginal businesses, recognising that they don't receive enough support in one of the most crucial aspects of running a business: finance. Instead, Kedeisha and her team have made it their mission to empower Aboriginal business owners so that they can create the opportunities that they deserve.
Monique Rennie
Created on Country
Monique Rennie is a proud Kamilaroi/Gomeroi designer residing on Wonnarua land in the Upper Hunter. With 7 years of industry experience in graphic design, she is passionate about providing support to First Nations businesses and initiatives. With 7 years of industry experience in graphic design, she is passionate about providing support to First Nations businesses and initiatives.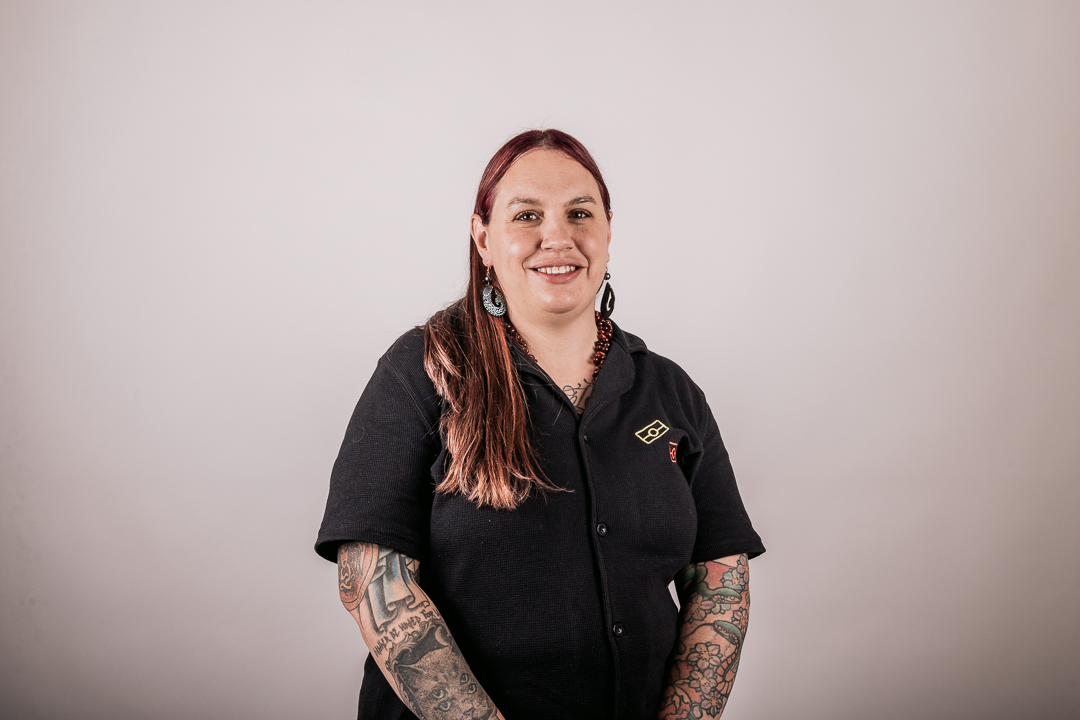 Laura Jane Singh - First Nations Healing Practitioner
Laura is a Counsellor, Educator, and First Nations Healing Practitioner, and she finds strength in her Blakness as a proud woman of Quandamooka and Wiradjuri Nations. Her approach is grounded in an anti-oppressive and intersectional perspective, with a strong emphasis on the client-therapist relationship. As a counsellor, her primary goal is to provide an affordable, accessible, and collaborative service that creates an environment built on compassion and cultural safety. As clients and practitioners, we embark on a journey of learning together. Laura's deep connection to country and cultural knowledge allows her to cultivate a curious and nurturing environment where she can address the complexities of trauma while assisting my clients on their therapeutic journey of healing. She is dedicated to creating a trauma-informed and culturally safe space that promotes wisdom and knowledge through traditional healing practices, as well as the sharing, caring, and renewal that they bring. In her practice, she is acutely aware of the impacts of historical trauma and the cumulative intergenerational socio-psychological trauma caused by colonization and colonial pain. She acknowledges that social and emotional well-being is a dynamic balance between interconnected domains such as the body, mind and emotions, family and kinship, community, culture, country, and spirituality. Laura is proud to be fully accredited and insured with ACWA, and she is more than happy to provide further information about my formal qualifications and experience upon request. It is always her intention to create a space where cultural safety and respect for First Nations traditions and knowledge are at the forefront. Together, we can embark on a therapeutic journey that promotes healing and growth.
Tahnee Edwards - Gammin Threads
Gammin Threads
Tahnee is a Yorta Yorta & Taungurung designer, she has a degree in graphic design and fashion merchandising. She has 15 years of experience in design and branding and her own label called Gammin threads which she started in 2018. Gammin threads is an Aboriginal label, born from a love of typography, language and blak pride. It consists of deadly apparel and accessories for people who believe in living colourfully, paying respect and empowering women.
Kaydee Kyle Taylor
ithinksheafreak
Business owner of ITHINKSHEAFREAK & DSG VIC Aboriginal Coordinator. Kaydee is a proud Wakka Wakka, Birri Gubba, Kaanjtu, Ngati Kahungunu & Ngati Porou woman. One of the leading First Nation Aboriginal/Maori Pro Makeup Artists within Australia and small business owner of ITHINKSHEAFREAK, Kaydee works towards closing the gap and filling in the lack of representation within the beauty industry. Graduated from National Academy of Beauty 2017, Kaydee dedicates her artistry to catering to BIPOC clientele after experiencing the lack of knowledge that artists had on how to work with BIPOC complexion, which stemmed from the exclusivity of beauty school and the beauty market. Working across a wide range of creative spaces with her freelancing business as well as working full time in education as an Aboriginal Coordinator of the Wirrpanda Foundations Deadly Sister Girls program at Thornbury High school, Kaydee makes sure to keep culture and community that the forefront of everything she does whilst also leading and creating a pathway for the next generation.
Dixon Patten
Bayila Creative
Dixon is a proud Gunnai, Yorta Yorta, Gunditjmara, Dhudhuroa, Yuin and Wiradjuri man. Dixon is the lead artist & storyteller and also co-founder of Bayila Creative. Art has always given Dixon a strong sense of understanding and cultural liberation. He started Bayila Creative with an eagerness to share Aboriginal culture and to 'Indigenise' spaces and embed our stories, history and contemporary culture in mainstream society. Dixon's strengths are his connections and knowledge to community and the arts which has enabled him to understand the communication needs and wants of Indigenous communities, corporate and government organisations.
Maddi Moser
Chlo & Co Creatives
Maddi is a Taungurung woman who loves all things creative! Maddi has a Bachelor of Graphic Design and her Masters in Teaching. She's been working in the design field for almost 10 years now helping businesses through her own business Chlo and Co Creatives. Maddi specialises in branding design, digital marketing, illustration and photography and assists Ngarrimili in developing visuals for businesses that they love and helps make them recognisable to their audience.
Jacinta Keefe
Jacinta Keefe Photography
Jacinta Keefe is a Wiradjuri woman who holds a Bachelor of Fine Arts from the Victorian College of the Arts and runs her own photography business Jacinta Keefe Photography. Jacinta supports Ngarrimili through photographing events and sharing her experiences with our networks of being a young Aboriginal woman in business.
Megan Lea Waters
Megan is a proud Warumungu/Yawuru woman who was born and raised on Larrakia Country which is where she still calls home.
Naarm has been Megan's home away from home for the past 10 years which is where her career in the fitness and wellness industry was established. Megan, often referred to as Megzy, has created an impressive portfolio within the fitness industry and is a highly sought after, fully qualified Personal Trainer and Group Coach. Megan says that her drive is fuelled by her desire to positively influence people's lives and through her experience as a coach she's been fortunate to work with hundreds of clients in Melbourne and her hometown Darwin. Megan believes that health is our greatest asset, physically and mentally which is why you'll find her spending most of her time either exercising or meditating.
Sarah Hyland
Together Business Australia
Sarah is one of the very few First Nations people running accounting firms in Australia. Before starting her own practice, she worked in the corporate world including stints at a bank and Big Four accounting firm. As a Chartered Accountant passionate about disrupting 'the way we have always done things', Sarah proudly brings a unique lens to each professional relationship, seeking out innovative thinking and opportunities, while at the same time contributing a rigorous lens of feasibility and sustainability.
Liam Ridgeway
NGNY
Liam is a descendant of the Gumbaynggirr and Dunghutti people of the North Coast of NSW (paternal line), and the Wakka Wakka and Kullilli people of QLD (maternal line), and grew up on Gadigal country, Sydney.
He is a co-founder of Ngakkan Nyaagu (NGNY), an Indigenous owned digital agency, and Indigitek, a charity that provides learning and career pathways in STEM for Aboriginal and Torres Strait Islander people.He has a passion to increase Indigenous participation in the digital economy and support the growth of a collaborative and sustainable Indigenous STEM community. He aims to use his knowledge and networks in the technology industry to identify pathways for the Indigenous community to thrive individually and as a whole.
Tish Bhagwandeen
Infinance Solutions
Tish is the Founder and Director of Infinance Solutions. With more than 12 years of financial experience, she has an in-depth understanding of business – from managing and growing start-up enterprises to taking care of the daily financial requirements of companies. As a Chartered Accountant, Tish has global experience that spans a variety of industries, having previously worked in the United States and South Africa. After working as a financial auditor she transitioned her career towards that of a Group Financial Controller in the Financial Services sector. After successfully transitioning the company to a sale on the ASX, she has co-founded Infinance Solutions. Tish is all about the numbers and loves working with people and small companies to help them achieve their business goals.